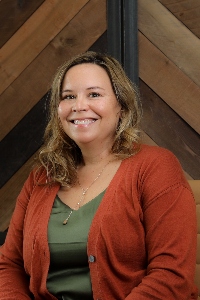 Krista Kirby, CFP®
Financial Planner
Krista Kirby, CFP® has been serving families and small business owners as an independent financial advisor for 15 years. She enjoys building long-term and multi-generational relationships with her clients. Her passion lies in comprehensive financial planning and tax strategies. She will use her experience, analytical skills and education to provide you with strategies and solutions to simplify your finances so that you can enjoy the important things in life.
Krista believes that time and money are the most important resources one has. Time you can never get back and money that you have worked so hard to save. Working in a fiduciary capacity she aims to be your trusted advisor and a steward of your resources.
Krista leads the team at Affinity Wealth Management. "I am very excited to be part of a team where each team member has their own unique abilities, which will enable us to better serve our clients."
Krista received a Bachelor of Science in Business Administration from the University of Nebraska, Lincoln. She earned her designation as a CERTIFIED FINANCIAL PLANNER™ Practitioner in 2012 from the International Board of Standards and Practices for Certified Financial Planners. This is one of the premier credentials in the financial planning industry that requires her to abide by the Code of Ethics and Standards of Practice set forth by the board. She also holds a life insurance license with a background in tax preparation and real estate property management. Krista is currently working on becoming certified with the Business Enterprise Institute to help business owners wanting to learn about exit planning strategies.
She has been involved with Toastmasters Public Speaking and the California and Colorado Society of CPAs. She has served as a member of the Public Relations Committee of the Financial Planning Association of Colorado and the Boulder Estate Planning Council. Krista is a member of the Summit Chamber of Commerce Women of the Summit.
Email Mrs. Krista at krista@affinitywmg.com.
Aleda and members of our ensemble and replace with the Affinity Wealth Management Group Team stands ready to help you.
Address: 720 Summit Boulevard, Unit 101 B, Frisco, CO 80443
PO BOX 4776 Frisco, CO 80443
Securities offered through LPL Financial, Member FINRA / SIPC. Investment Advice offered through Western Wealth Management LLC, a registered investment advisor. Affinity Wealth Management Group and Western Wealth Management LLC are separate entities from LPL Financial.
The financial professionals associated with LPL Financial may discuss and/or transact business only with residents of the states in which they are properly registered or licensed. No offers may be made or accepted from any resident of any other state.
No information provided on this site is intended to constitute an offer to sell or a solicitation of an offer to buy shares of any security, nor shall any security be offered or sold to any person, in any jurisdiction in which such offer, solicitation, purchase or sale would be unlawful under securities laws of such jurisdiction.